Dance like no one's watching, as the saying goes.
Erm… not so much. Crikey, I was really self-conscious when I finally got around to completing a challenge set early on by my friend Vicki to join a dance class. This specifically had to be Salsa, or the like. (Aha! I spy another cunning plan to get me up close and personal with a man…)
I found some classes run by an ex Strictly Come Dancing pro who lives locally, so that seemed a good place to start. His name is Andrew Cuerden, and I'd sort of been aware of him for a while. He was happy to welcome me into his class but my lack of dance partner was going to be an issue because people tend to sign up in pairs. Hmmm.
I figured I'd go along to one of Andrew's solo classes, where he teaches basic steps, as a starting point, and come up with a plan to find a partner from there. We learned some simple Latin and waltz moves, and I really enjoyed it; it was good to be moving my body, and fun to be trying something new.
Partner dancing
I danced for twelve years as a youngster – all the mainstream stuff like ballet, modern, tap and every style in between – but I've only ever danced on my own. I've never tried partner dancing.
After the solo class, I hung around to see if I could join the couples class starting straight afterwards. Perhaps there'd be a spare man for me to dance with!
I was introduced to Mick* as the only bloke without a partner. He was in his seventies and I assumed he'd be an old hand at this. Winner!
But, no, it turned out this was his first ever dance class, too, and the pair of us together were absolutely hopeless. So, while every other couple was progressing to turns and learning new waltz steps, we kept going in just one direction with the same basic steps – and treading on each other's toes!
Hmmm back to the drawing board.
So, I came up with plan B; I booked a one to one lesson with Andrew in order to learn a short routine and feel what it's like to be properly led by a partner who knows what they're doing.
We worked on a Cross Body Salsa routine with spins and turns, and tried various different holds, etc, and, it was a wonderful experience.
I suppose it's obvious that there's so much more to partner dancing than just learning the steps and leading or following, but I hadn't really given it very much thought. We spent time exploring some of the psychology that connects two dancers, and the nuances of communication on the dancefloor.
We went through a number of warm up exercises with our eyes closed to encourage me to connect with Andrew as my dance partner and listen to the body language cues he was giving me without my head getting in the way.
I'm usually independent, capable, and in control of most things in my life, so this was a massive lesson in letting go; in handing over control to my dance partner, and trusting that he would not let me fail.
Mental chatter and self-doubt
I'll admit to being very self-conscious. How close should I stand to him? What if I got sweaty and smelly? What if I had bad breath? Where should I look – into his eyes or over his shoulder? OMG, just the mental chatter and self-doubt was exhausting. And that was before I'd even got into nailing the moves and remembering the routine.
I have a real fear of looking stupid because I don't know what I'm supposed to be doing, or somehow not understanding the rules of the game, so I found this hugely challenging. I'll admit to becoming a bit guarded over the years in an effort to protect myself from being hurt, so I was tense, and felt uncomfortable making myself vulnerable, even just for an hour or so in a dance class with no one else watching!
Mad, isn't it!
This is what they're talking about on Strictly when the judges say they want to see the celeb let themselves go because they're holding back and not giving in to the music and the dance. It's much, much harder than it seems.
I think I can give myself a bit of a break, though; in one lesson I wasn't going to be glitter ball-ready, but I did a good job, it was a fabulous insight and I would love to partner dance more.
A few months back, I interviewed a lady for my radio show who's set up Kizomba classes in Maidenhead. Kizomba is an African partner dance and it looks super fun. I really fancy trying it, but there's absolutely no room for tension on the dancefloor there! Baptism of fire anyone?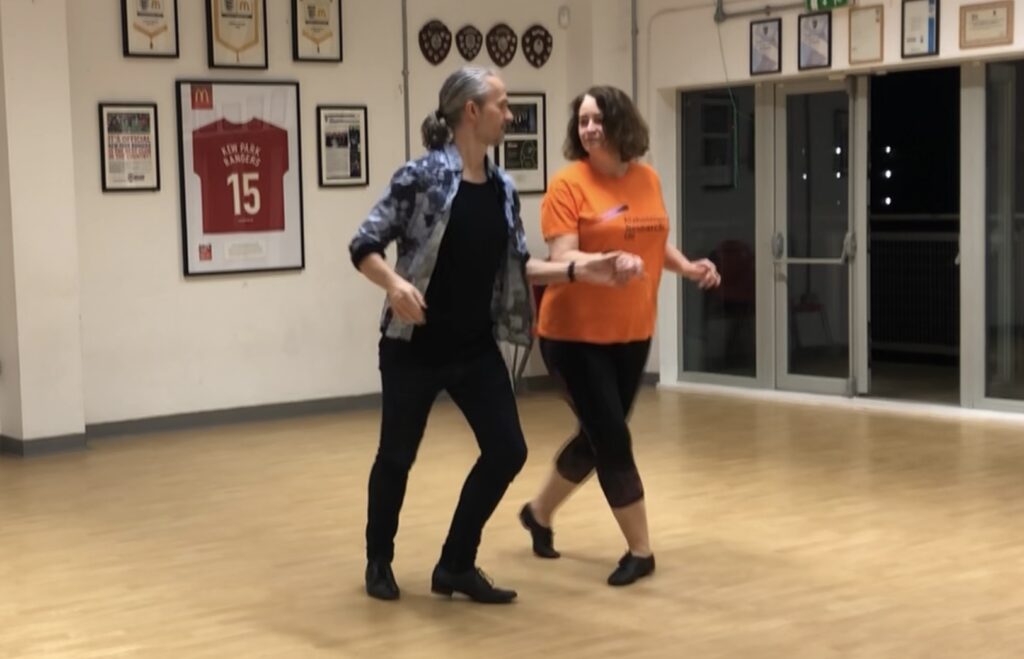 *Not his real name…